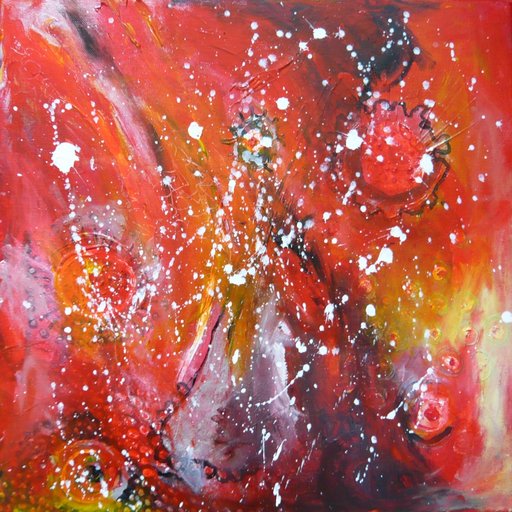 Dynamic and colorful, with lots of movement. These are some keywords that apply to my paintings. I work with a quick key and mix in a little palette. The existing colors I put directly on the canvas, and if I do mix, then this will most of the times happen on the canvas itself.

After a one year basic course followed in obtaining the Royal Art Academy in The Hague, I took some painting courses. Then I developed my style, purely by doing and develop ecxperience.

My life is marked by the release of identities and beliefs that I during my life have built. So I try to back the essence of my core. My main inspiration for this is the painting, it brings me into the unknown and let me see my fears and beliefs.

The paintings I make arise from the unknown. They are painted with no plan, no image shown.

Usually I work with acrylics on canvas or paper. My preference for acryverf stems from the fact that it dries quickly, I can quickly and easily work with multiple layers of overlapping set.
Occasionally I also work with guache with pen. Sometimes with glass paint on glass.
I like to paint with my hands, with a brush or cloth.

Currently I am working a lot on paper. Guache acrylic scrap or grease I go out. This brings about interesting color combinations. The limits indicated by the colors, I often Outline with pen again.

I want viewers of my paintings to invite to let go of opinion and prejudice while looking. Don't look at either beautiful or ugly but instead to experience what the viewer experiences in terms of emotions, while watching.